Our selection of Clothing, Shoes and accessories was created by our passion and constant resarch of trendy, (traduzione letterale: sparkling) updated or historical garments that, with their volumes and manufacturing, will give a taste of storytelling to those who buy and live them. From Universal Works, a British overseas brand, offering a modern Total Look, with the Baker Jacket and the Aston model, creating a pratical outfit, suitable for every occasion. Gramicci brand, created by Mike Graham, inspired by his climbing adventures on the rocky slopes of Yosemite Park which have made the G Pant famous; Manifattura Ceccarelli, then Filson, Element, Barbour and other special partnerships. Shoes are our flagship, our historical background, how Corsi shop started back in 1948. We have been working for years with important brands such as Red Wing, a timeless American Brand, with its Heritage Boots, Paraboot, and sophisticted sneakers such as Hoka One-One, Excelsior, Sebago, Karhu, SWC, Premiata, Buttero, Mephisto, Original Grade etc
UOMO – ABBIGLIAMENTO, SCARPE E ACCESSORI
The women's selection of clothing, shoes and accessories from Corsi shop provides Heritage brands and great classics such as Universal Works with its masculine garments with relaxed volumes, Gramicci with its practical and comfortable organic cotton trousers. Excelsior canvas sneakers, Premiata and Karhu sneakers, Made in Italy shoes and ankle boots by Buttero and Fiorentini Baker. The lace-up ankle boots by Red Wing and the Norwegian shoes by Paraboot woman. You can also find less rough-tasting shoes like Chie Mihara, Del Carlo, Dora, Cheville, Ernesto Dolani and Mephisto.
DONNA – ABBIGLIAMENTO, SCARPE E ACCESSORI
BOOK YOUR APPOINTMENT

By booking an appointment in the store you reserve the exclusive right to have one of our experts at your side to answer and satisfy all your questions. You can try our new items or bring your old shoes with you for a repair or resoling evaluation.
We are one of the few Shoe Shops in Italy which can boast an in-store Shoe Repair laboratory. Our shoe repair laboratory is housed in the historical Corsi Shop in Sesto Fiorentino (Firenze), where, since 1999 we repair, customize, take care of your shoes with our long standing experience.

We started customising and resoling Red Wing in 2015, as we had been fascinated by the Japanese customizations, who are always very scrupolous and attentive to detail. With patience and ideas we went to the central Italy Vibram distributor searching for soles which could be suitable for our resoling service and for our customizations. Our mission is also to give assistance to our clients and it is therefore important to be able to deliver this service, driven by the passion for the products we sell, timeless items. We resole Red Wing, thanks to the precios contribution of our father Enrico, With his forty year experience in this field, our research on materials and on "new looks" to give to old Red Wing we have managed to reach today's results. We'll keep offering youy new soles and new looks to give to your shoes, as, like you do, we know how beautiful they are once the are worn out and used in all situations, and we also know the bond of affection linked to this kind of shoes we'd never like to get rid of.
SUBSCRIBE OUR NEWSLETTER
AND GET -10% OFF

News about our brands of footwear and accessories collections, tips and tricks to recognize and maintain quality shoes, special and exclusive offers …
SUBSCRIBE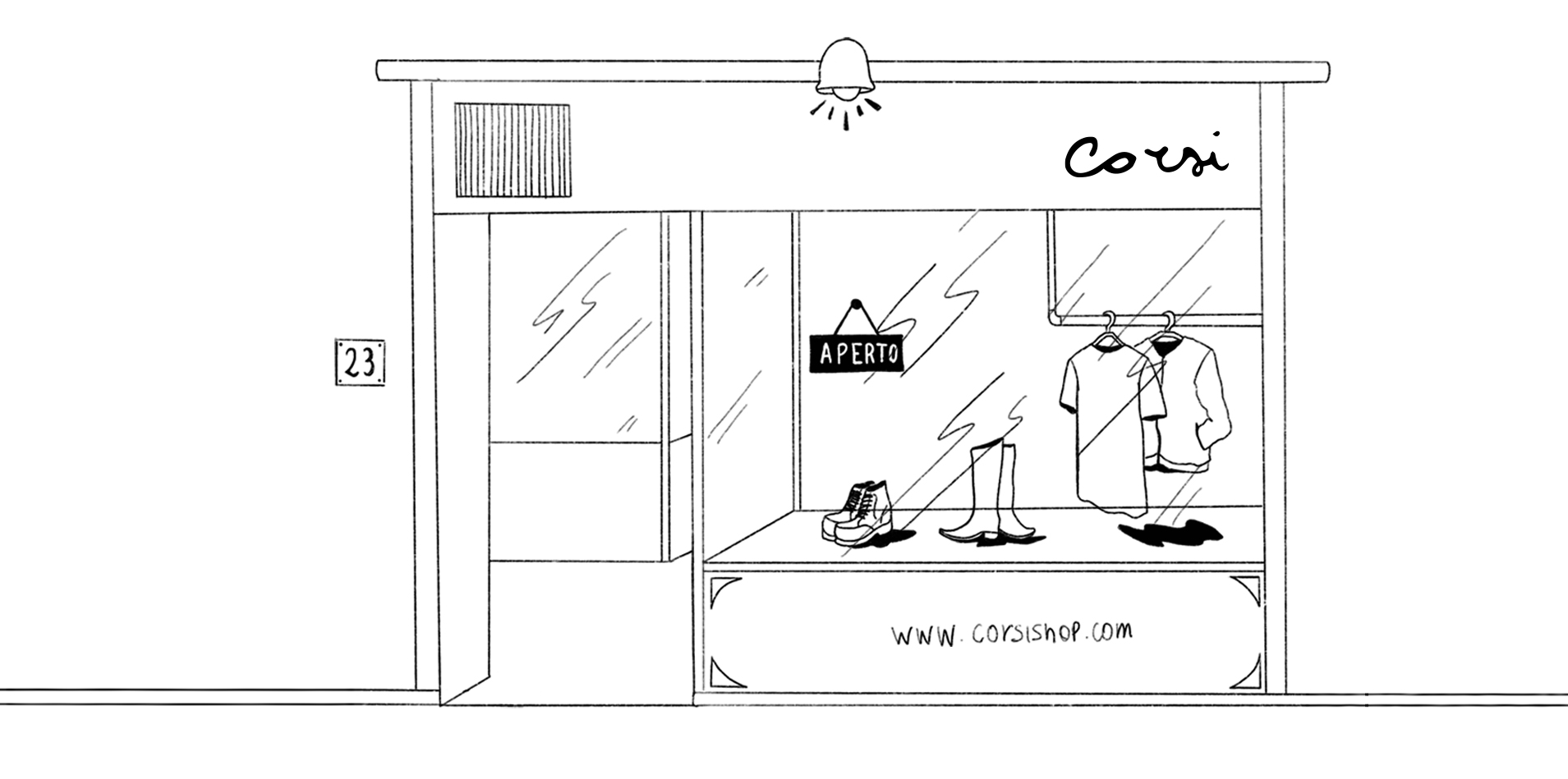 FREE SHIPPING
with a minimum pur chase of € 150,00 in Italy, minimum pur chase of € 350,00 in Europe. 24/48 Hours Deliver y with the exception of remote areas and minor islands. We rely on the best couriers in order to deliver the goods in the best possible time with the best possible service
CUSTOMIZATION
no shoe has a perfect fit, but with Corsi Shop it can become so. You'll finally be able to buy your dream shoes , even if they do not feel so comfortable at the first fit. We' ll take care of adapting them to your foot.

ASSISTENZA
we are at your disposal to advise you, but only after having carefully listened to your needs. Call us or visit us, we can't wait to be at your service.
Chat WhatsApp 375 512 9744

SECURE PAYMENTS
on Corsi Shop you can pay by PayPal, Visa, Mastercard. For secure payments we rely on the Paway secure circuit which offers us a secure environment and platform for secure payments
THE BEST BRANDS
Discover all our brands that we have in our online catalog
CORSI SHOP: SHOES, CLOTHING AND ACCESSORIES OF THE BEST BRANDS
Corsi Shoes was founded in 1948 by the brothers Rinaldo and Romano, then it passed to Lucia and her husband Enrico. To date, at the third generation, with Francesco and Stefano, who also created the on-line brand Corsi Shop, Corsi has always focused on the proposal of high quality shoes, without neglecting comfort and practical use, with selection of brands, an excellent customer care and assistance on the purchased goods. Corsi Shoes has always stood out for its style in step with the times, without renouncing to enhance the local artisan tradition, finding confirmation of its choices in the most important shop windows all around the globe: from New York to London, Paris and last but not least, Florence Corsi Shop is not only a footwear shop: for over half a century Corsi Shop has distinguished itself for the selection of clothing and accessories of quality and innovation. There is a strong bond between our family and the shop, the driving force behind Corsi is the passion for this job and for the world of fashion. Over the years, our father Enrico's passion for hunting and outdoor activities has contaminated our taste, making us passionate about products which are both pratcical and durable. Both Stefano and Francesco studied in Polimoda and worked for Buttero, designing some of their men's collections. All these experiencese formed the DNA of Corsi Shop, drawing it closer to the world of Heritage. By selecting brands such as Universal Works, Filson, Manifattura Ceccarelli, Buttero, Red Wing, Paraboot, Tricker's, Corsiì Shop aims to become an online reference point for Italian clothing, shoes and accessories brands.
Daily workwear
Born as specific clothing for workers, to ensure they were protected and at the same time could have practical and durable accessories, Workwear Fashion became in a short time a movement and a trend. Most of the garments were designed for a specific use, as workwear or for Outdoor activities, like the Red Wing Moc Toe 877 boots, in Irish Setter leather, so called because they recall the colour of the dog who would accompany the hunter on trips; or the versions Red Wing Moc Toe 875, 8131 and Iron Ranger. The Filson's Mackinaw Cruiser Jacket patented in 1914 and made of 100% Mackinaw pure virgin wool, naturally water-repellent and warm in all weather conditions, with its nine pockets, is ideal for working, for hunting or for daily use. Since 1850 Filson has been manufacturing bags and suitcases in Rugged Twill 22 Ounces, brass zippers and very strong leather saddlery handles, Francesco likes to define them the "Luis Vuitton of the outdoors" and they have been made famous thanks to some movies such as "Blow" where Johnny Depp wears the Rugged Twill Rucksack Tan backpack. The Baker Jacket by Universal Works designed by David Kyte who took inspiration from his father who was a baker. Iconic models like Chambord and Michael by Paraboot, among the first shoes to have rubber soles for sporting use. Mephisto wth the Rainbow and Lady models which have just turned 55 55 years. Speaking of these brands, we cannot fail to mention Sebago, born in America with the first moccasins with soles designed for sailing, up to the Sebago Docksides®, the most famous model among boat shoes and a real milestone among sailors from all over the world.
Trekking & Running
Another passion that drive us to choosing our brands is Trekking and the Running world. Among our brands you will find Karhu, historical Finnish brand, born in 1916, that still manufactures high quality sports and outdoor activities shoes, with an archive of models to be envied by the major world's sport shoes manufacturers. The most renowned models are the Fusion 2.0 sneakers, the Championair, the Aria, the Synchron and the latest Legacy which has also been fished out of the historical archive. Danner, another historic Star and Stripes brand offering a line of Trekking boots with Gore-Tex linings and leathers treated to withstand the harshest climates, or sneakers with Vibram® soles for technical use and for sports such as Trail Running. Gramicci offers a clothing line with garments in technical fabrics or organic cotton which are a good choice both for long walks in the mountains and for daily use. Among the must-haves of recent seasons are the Gramicci G-Pant and G-Short models. Among the latest arrivals in store you will find the Hoka One-One Sneakers, models with a unique flavor and exceptional comfort that do not follow the logics of the most established market's brands. They created collaborations with Engineered Garments, revisiting some models such as the Bondi B. The only common denominator is functionality and resistance, for these garments born to last over time and guarantee the necessary protection to those who buy and live them
ARTICOLI DAL NOSTRO BLOG
Scopri tutti i nostri approfondimenti